To Charly
It's winter, it's cold, what better than a good dish to warm the soul?
Maybe you lost track of where it came from, or maybe your nonna told you that bagna cauda comes from the wonderful Piedmont area of Italy.
Whatever the case, this dish is as unique as its origin, with its garlic and anchovy flavour, perfect for the autumn season.
But if you have no idea what I'm talking about when you hear bagna cauda, here it is.
Bagna Cauda (in standard Italian and in Piedmontese bagna càuda – pronunciation: 'baña cáuda') is the typical dish par excellence of Piedmont. It is a winter dish, a starter or main course, a speciality of ancient Piedmont, similar to a fondue, because the base is a sauce, and you can dip things in it.
If you make this recipe, you can accompany it at the end with my traditional recipe of Limoncello! In this article you will find
The origin of the name
We know that bagna caoda derives from the two terms 'bagna', which in Piedmontese means sauce or broth, and 'caoda', which means hot: hence hot sauce.
Bagna Cauda is a widespread and multifaceted recipe
The interesting thing about this recipe is that although it is of Italian origin, with the colonisation of territories such as Argentina, Brazil or the United States, the recipe also arrived. And as the people had other types of vegetables and food, they created their own versions of the dish.
The Piedmontese version of Bagna Cauda and its historical origins
In Piedmont, it is prepared with anchovies, oil and garlic and is used as a sauce for fresh vegetables in the autumn season. As it is a hearty dish, it is usually considered as a main course, but sometimes it can also be served as an appetizer at a dinner with friends… In fact, in ancient times, it was during gatherings and dinners with friends that this dish was prepared, and over time it has become a symbol of friendship and joy. In reality, the origins of bagna caoda are shrouded in mystery, as it is not known exactly when, where and by whom this dish was invented, and it does not even have a city of residence, but it is known that the winemakers of the late Middle Ages adopted this recipe to celebrate a very important event such as the gleaning of the new wine.
A 'poor man's dish' and therefore ignored by international cuisine for a long time
For a long time, bagna caoda remained the dish only of the poor and peasants, as the aristocrats abhorred it because of the abundance of garlic. With the passage of time, this dish has been revalued and, today, many trattorias and restaurants, especially in Piedmont, offer bagna caoda on their menus.
The role of the "anciué"
Anchovies, thanks to the itinerant anciués who transported them in barrels or in the large multicoloured tins of 10 or more kilos, could be bought by the peasant families in small weekly quantities. 
In the past, salt was a very precious good and sometimes more expensive than other foodstuffs, so families preferred to obtain salt from salted fish, rather than buying salt directly.
How to prepare bagna cauda according to the traditional Piedmontese recipe
The Asti Delegation of the Italian Cooking Academy, on February 7, 2005, registered this recipe as the one to be considered the most reliable.
Ingredients for 12 people
12 cloves of garlic,
6 glasses of extra virgin olive oil and, if possible, a small glass of walnut oil,
600 grams of red anchovies from Spain.
Procedure
Cut the garlic cloves, previously stripped of their shoots.
Put the garlic in an earthenware casserole, add a glass of oil and start cooking over very low heat, stirring with a wooden spoon and taking care that they do not brown.
Then add the desalted and de-boned anchovies, washed in red wine and dried, stirring gently.
Cover with the remaining oil and cook the sauce over low heat for half an hour, making sure that the sauce does not get cold.
At the end of cooking, if a milder flavor is desired, you can add a small piece of very fresh butter.
Pour the bagna into the corresponding "fujot", small earthenware or terracotta ovens, and accompany it with the following vegetables: raw cardoons from Nice, Jerusalem artichokes, white cabbage hearts, endive and chicory, fresh peppers and peppers with tail, raw onions pickled and bathed in Barbera wine; cooked red beets, boiled potatoes, roasted onions, fried pumpkin, roasted peppers.
It is traditional to collect the "thick bagna" at the end by scrambling an egg in it.
What should the ingredients of bagna cauda piamontesa be like?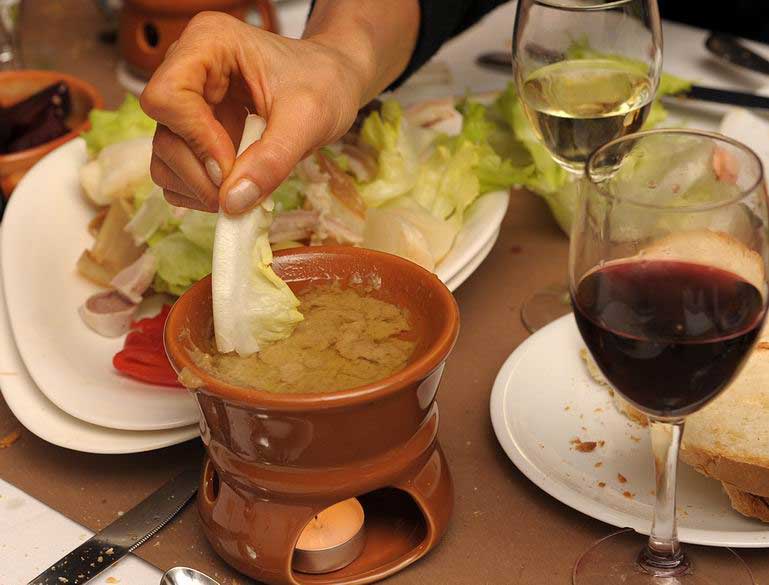 Anchovies should preferably be "Spanish red anchovies", so called because of their origin and the colour that their flesh acquires after perfect and prolonged salting, seasoned for at least one year. Avoid using anchovies in fillets in jars.
The oil should be extra virgin olive oil, preferably from Liguria.
Bagna Cauda should be kept at a high temperature, but should not be fried or smoked. It is eaten by dipping raw autumn vegetables in it, among which the coveted white thistle, the "gobbo" of Nizza Monferrato and raw or roasted peppers are protagonists.
Then raw cabbage, baked red beet, topinabò – Jerusalem artichoke -, boiled potato, cabbage, endive or chicory hearts, spring onion, boiled cauliflower and any other vegetable you want to try. All fall vegetables are fine, but many gourmets avoid the more aromatic ones such as celery or fennel.
Peppers can be eaten fresh, "cut into ribs", or pickled in the smujà version.
Some people also add spicy or chilli, to give an extra touch to the Bagna Cauda.
Enjoy your bagna cauda!